Up a private right of way a few minutes walk from Raglan town centre.
55K from Hamilton Airport. 140K from Auckland Airport.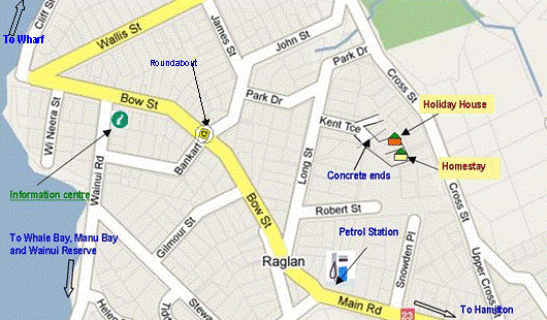 Arriving in Raglan on SH23 from Hamilton, you will see a Petrol Station on your right hand side. Take the next turning on the right which is Long Street. Kent Terrace R.O.W is the second turning on the right. There is a sign pointing to it from the opposite side of the street.
From the Information Centre in Raglan, the quickest route is to turn right into Bow Street from Wainui Road, carry on to the roundabout and turn left into James Street. Then turn first right into Park Drive and first right again up Long Street. Kent Terrace R.O.W is the first turning to your left.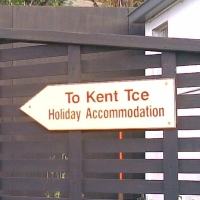 When you turn into the right of way, you will see three driveways. Kent Terrace is the one to your extreme right. As you come up the driveway you will pass two signs pointing to the Accommodation, the first on the left, the second on the right. When you reach the end of the concrete you will see a third sign for the Holiday Accommodation about 20 metres further on. The Holiday House is the yellow brick house to your left. Drive on past the sign to the end of the hedge and the Homestay is the weatherboard house in front of you.
Use

Google Maps

to get more directions or explore the area (opens in new window)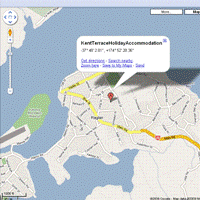 Nearest airports Auckland & Hamilton
Short drive to local beauty spots Wairenga (Bridal Veil) Falls and Wainui Reserve and to the walking trails at Te Toto Gorge and Mount Kairoi.
Close to the world famous surfing breaks of Manu Bay, Whale Bay, and the Indicators.
Easy walk into town to browse the arty boutiques and enjoy the local restaurants, or stroll up to the Wharf to get some fresh fish.